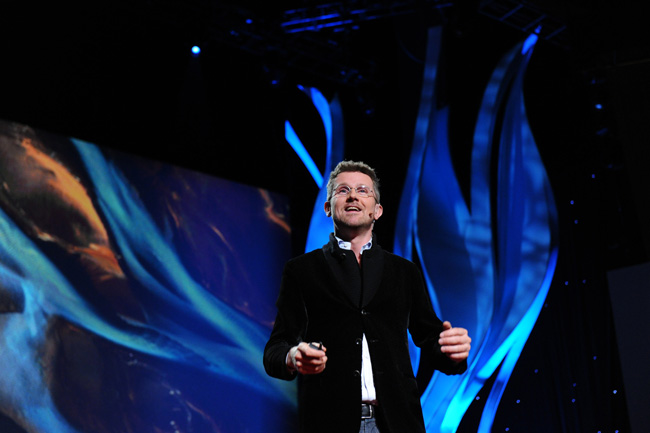 Checkdisout #5: City Talk on September 7, 2011 deals with development processes in today's cities. We are taking a special look on people and projects using their creativity to explain and solve pressing urban issues today and tomorrow.
Prof. Carlo Ratti acts as director of MIT SENSEable City Lab in Cambridge, USA. As one of the most forward thinking and innovative labs on the intersection between architecture, urbanism and new technologies he and his team have brought up projects including the Copenhagen Wheel, Trash Track or Backtalk. Carlo also runs his own architecture office with his partner Walter Nicolino. (Photo courtesy of TED).
What has so far been your best real-life experience in terms of urban
planning?
One of my most favorites is the involvement in the design of two new 'smart cities' – one in mexico and one in saudi arabia…
Which are your favorite creative projects around the city?
Among our projects, i am still very fond of what we did for the 2006 venice biennale: Real Time Rome.
Which major changes do you see in the field of architecture and urban planning within the last 10 years?
Not much ove the past 10 years, but huge over the next decade. i believe that we will get to an architecture that senses and responds, as i discussed at TED 2011:
What role did/does the internet play for your work?
Very important in terms of keeping in touch with people and innovation…
Which current trends do you see in cities in Europe and the US right now? Where to expect exciting/ or maybe even dissapointing developments?
The most rapid developments seem to be happening in asia – nonetheless, i there are some very interesting experiments happening in europe and the USA…
Thank You, Carlo!
Tickets
Begrenztes Sitzplatzkontingent. Karten nur im Vorverkauf erhältlich auf: www.checkdisout.com. Early Bird Tickets: 20 EUR (nur für Privatpersonen, solange Vorrat reicht, danach regulärer Preis: 25 EUR) Business Bundles: Ab 2 Tickets 35 EUR pro Ticket, ermässigte Tickets für Studenten, Schüler usw. nur mit gültigem Nachweis zum Preis von 15 EUR. Checkdisout ist eine Veranstaltung von Matthias Weber in Kooperation mit dem Kunstverein Hamburg. Kontakt: matthias/AT/checkdisout.com
Online Event Registration mit amiando