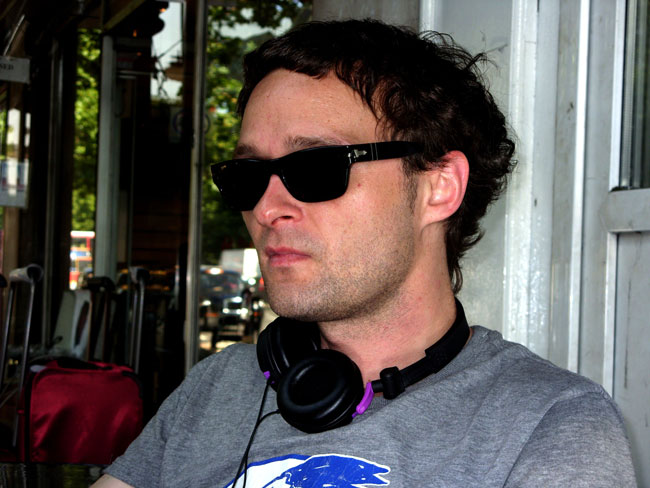 Checkdisout #5: City Talk on September 7, 2011 deals with development processes in today's cities. We are taking a special look on people and projects using their creativity to explain and solve pressing urban issues. Tino Buchholz is an Urban Planner and filmmaker who recently premiered his documentary Creativity and the Capitalist City. The film received a lot of attention, as it tackles the hot-topic of gentrification in today's cities worldwide. Tino is a member of AKOPLAN, an institute for social and ecological planning and works as a researcher at University of Groningen.
What has so far been your best real-life experience in terms of urban
planning?
Barcelona is astonishing, Leipzig charming, Hamburg has its moments.
What was your worst?
Since Mumbai would be too easy: London.
Which are your favorite creative projects around the city? (could be
anything from a movie, to installation, to actual architecture…)
Places that reveal urban life, daily life, social movements, reflection and a sense of resistance. places that are manifold and unique, places that are accessible for everybody and provide niches at the same time.
Which major changes do you see in the field of architecture and urban planning within the last 10 years?
The end of the social democratic era, market-radicalism, increasing privatization of the urban, the end of urban planning; an eroding middle class in the US and Europe, gentrification of course; and an increasing number of informal settlements, tent cities, squatting.
What is the difference between Gentrification in Amsterdam and in German cities (e.g. Berlin, Hamburg). Is there a difference at all? (People, Movements, Politics?)
Gentrification is capitalist urban regeneration + displacement through rising market prices: business as usual, so to say. it's the same competitive economic logic that is driving both (and all) creative capitalist cities. and this is exactly what my film wants to transport and why I get invited to Hamburg, London, Paris, Istanbul etc… Hence, my bottom line message is: "See Amsterdam re/development, think of your own city"!
Which current trends do you see in cities in Europe and Germany right now?
Housing is increasingly treated as commodity instead of a social good (home). Housing is a business and may soon become a job, as the anti-squat concept flourishes and live-in guardians expand all over Europe. Anti-squat is the market answer to the threat of squatting, vandalism etc. it is a severe attack on the right to the city.
Where to expect exciting/ or maybe even dissapointing developments?
The "real democracy now" movements in southern and eastern Europe are very interesting and hard to ignore in their cry for democratic change. that's promising. It would be sad, if "creativity" took serious damage from Richard Florida and its mere economic interpretation/exploitation. Creativity is not an end in itself but aims for something. That's a normative issue (to be defined). Therefore, the challenge will be to reclaim creativity and insist on democracy.
Thank You!
Tickets
Begrenztes Sitzplatzkontingent. Karten nur im Vorverkauf erhältlich auf: www.checkdisout.com. Early Bird Tickets: 20 EUR (nur für Privatpersonen, solange Vorrat reicht, danach regulärer Preis: 25 EUR) Business Bundles: Ab 2 Tickets 35 EUR pro Ticket, ermässigte Tickets für Studenten, Schüler usw. nur mit gültigem Nachweis zum Preis von 15 EUR. Checkdisout ist eine Veranstaltung von Matthias Weber in Kooperation mit dem Kunstverein Hamburg. Kontakt: matthias/AT/checkdisout.com
Online Event Registration mit amiando